Diamond stones are popular for their extraordinary sparkly appearance. Being one of the most precious stones in the world, diamonds are used for jewelry making, but their prices are higher than gold and silver.
Besides being valuable, diamond stones are also one of the hardest natural materials, which can easily cut glass and any other mineral. But if the diamond itself gets any scratch or imperfection on its surface, then its beauty fades away.
Remember that diamond is not glass; it may be the hardest naturally occurring rock on the planet, but it's still delicate. Cleaning the stone with a chemical-based liquid or a hard brush might permanently damage your precious jewelry.
Most people prefer to wear either diamond rings or earrings. However, such jewelry items are also the most touched ones by the person wearing and even the on-lookers.
Although it is a fact that diamonds are forever, your diamond engagement ring is a large investment that requires daily love and care! Whether you are newly married or have had a ring on your finger for years, it is never too late to know how to properly care for your special engagement ring.
Ensure Perfect Fit
Proper fit is important. Ensuring your ring fits perfectly is the main thing to consider while caring for your engagement ring. If your ring design does not have a proper fit in your finger, it is likely it will spin around on your finger. This spinning can often lead to the ring hitting objects and stones becoming loose. If it is too big in size, it can even warp into the shape of your finger, causing a bend in the band. Also, it is important to wear a custom-made ring for safety reasons as you do not want your ring to fall off!
Know When to Remove Your Ring
These days the sleek ring design is very popular and sought after. Although in demand, these ring designs are fragile and must be cared for as such! Your diamond jewelry care not only involves what to do with your jewelry items but also considers what not to do!
Whether you are doing power lifting or going on a brisk walk; it is not recommended to work out in your ring. Wearing jewelry during a workout not only increases your chances of getting a prong caught on something or bending your ring. Your sweat will not help your diamond to shine! Aside from working out, there are other situations where you should also take off your ring. Household work can sometimes involve a lot of lifting and moving around. This is another instance where taking off your ring would be best.
Don't Use Harmful Chemicals
To take care of your jewelry items, it is necessary to be aware of what chemicals your jewelry is in contact with. Similar to housework and working out, you should not use cleaning chemicals with your ring on. Several cleaning agents dull the finish and shine of jewelry – particularly rings as your hands can come in contact with these chemicals easily. All harsh chemicals pose the risk of wearing off the metal of the ring. Bleach can harm many of the colored precious gemstones. If you want your ring to withstand the test of time – clean it with a bit of dish soap and a soft-bristle tooth brush.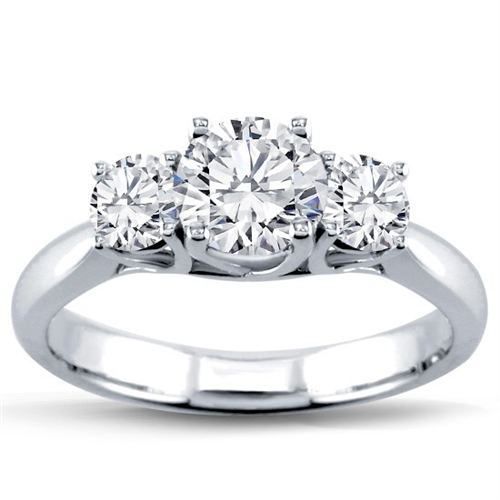 Remove Your Ring When You Go to Sleep
To keep your jewelry in good condition, it is important to take it off when you go to sleep. Yes, it is essential to put your ring to rest as well. When you are sleeping, it is rather easy for your ring to get caught in your hair in your sheet thread which can eventually cause your diamond to loosen and potentially fall out. Sleeping and putting your body weight on your ring can also be damaging to your ring as this weight can cause a bend in the ring or the prongs as well.
Storage
Keeping your classic diamond jewelry safe in a clean, dry place is as much important as washing it frequently. It is always important to store it separately from other jewelry items you own; the right way of keeping a diamond would be in the storage box. Further, keep your diamond box in a soft cloth bag to protect any harm.
Final Thoughts
The way your superior diamond jewelry shines is exactly what makes it so attractive and an important aspect of why it is valued in so many ways. Take care of your diamond jewelry to keep that extraordinary shine. Overall, keeping your precious diamond jewelry is not a difficult task. It just requires a bit of observance and regular cleaning.