There are a few core items you should have as wardrobe staples in your closet. Some of these pieces include a great pair of jeans, a pair of versatile heels, a leather jacket and your favorite white tee. Quite possibly, the most important staple item in your wardrobe might be a little black dress (LBD). Having a little black dress (or two) in your closet prepares you for so many different events. You can wear one just about anywhere, whether you're going to an impromptu dinner with friends, a date or even just out walking or shopping. The little black dress is your secret outfit weapon for any occasion.
Once you find a little black dress that you love, it's important to know how to style it so you can wear it over and over again. Thankfully, a little black dress can be transformed into a day, night, casual or cocktail just by switching up things like accessories, shoes, jewelry, hair and makeup. If you're looking for LBD outfit ideas or inspiration, look no further. Here's everything you need to know about styling a little black dress.
Casual Looks
Daytime: A little black dress during the day is such an easy outfit choice to make when you wake up in the morning. Black isn't only for nighttime! A daytime LBD outfit should be casual and make use of popular daytime fabrics like cotton, denim, polyester blends and the like. Think about how you might style a sundress or other casual outfit or work ensemble and take inspiration from there.
When creating your look, avoid heavier or more decadent fabrics like fine silks, velvet or suede. Daytime means sunlight and brightness, so take inspiration from there and accessorize accordingly. Regardless of season or weather, cute sneakers or flats are a great way to style a daytime little black dress look. A little black dress with crisp white sneakers or colorful flats is always in style. From there, finish off your daytime LBD look with daytime jewelry (a cute pair of studs always does the trick) and rock a half-up hair look or sassy ponytail.
Nighttime: Is there anything better than a casual little black dress at night? Consider this your go-to option for happy hour, casual dinners out, movie dates and other cool casual events that take place after dark. The black color of your dress will elevate the look naturally, making this outfit a great idea for times when you're in a rush or can't find anything in your closet. Little black dresses for nighttime are flattering, easy and versatile.
Style your little black dress for a casual night out by taking things up a notch from your daytime sneaker look. Any little black dress looks great with a pair of strappy sandals or low, chunky heels. You want to focus on casual comfort while adding just a bit more to the look. In terms of accessories, opt for a leather shoulder bag or crossbody for added style and texture. Bring in some bracelets and earrings, and let your hair down!
*Styling Tip: Take your makeup from day to night with an LBD look by adding a darker lip tint, black winged eyeliner and a touch of darker eyeshadow on the crease of your eyelid. Voila!
Take It Up a Notch
Daytime: You might need an outfit for a luncheon, daytime work obligation or other upscale daytime event that requires something extra from your usual daytime styling. A little black dress is the perfect way to achieve the put-together fancy daytime look without spending too much time on an outfit. For this, be careful to stay away from traditional evening fabrics and styles, so the look still says "daytime" without making things too heavy or dark.
For this look, opt for a shiny pair of patent leather heels. These are great for daytime and keep things light and bright. Next, add something fun to the look, like a cute jacket, to go along with the daytime vibes. For jewelry and accessories, you'll want to keep things light as well. Think light-colored clutches, dainty or shimmery earrings or a long statement necklace. Stick to lighter lip and eye colors to tie everything together.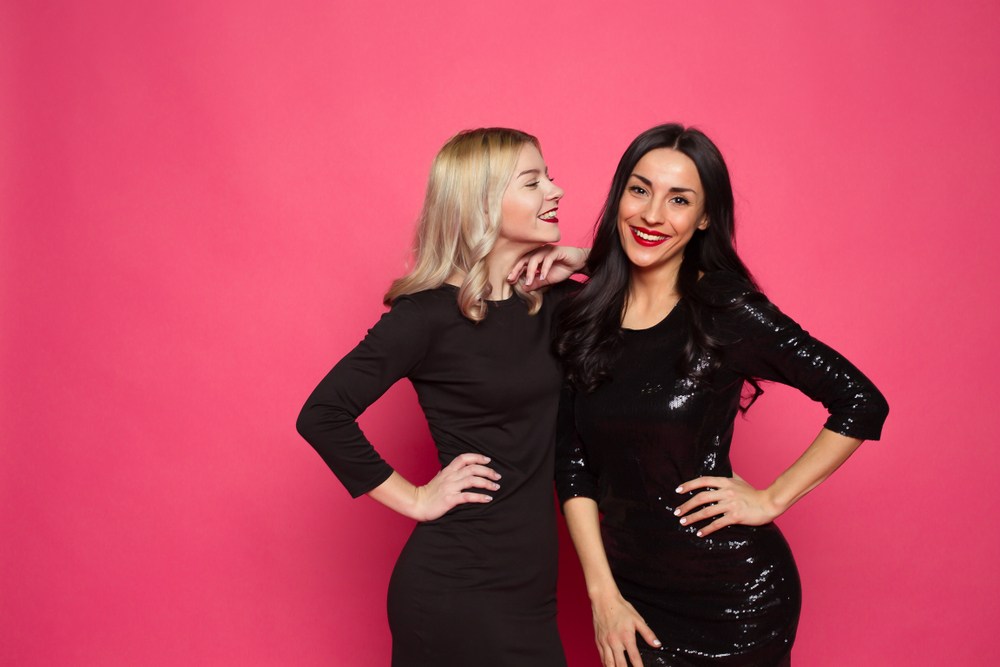 Nighttime: Ah, the fancy little black dress. Loved by dress wearers everywhere, this is the epitome of the little black dress idea. Wearing a LBD to an upscale evening event, whether it be cocktail or black tie, gives off an air of confidence and timeless style. There are so many options when it comes to nicer black dresses, so you should have no problem finding the perfect shape, material and style for which you are looking. After you have found the dress however, styling it is just as important.
Think about refined elegance when styling an evening LBD. Having said that, it's also important to let your personality shine through, which is easy to do by adding accessories. Think about a shimmery clutch or a set of bangles to take your look to the next level. High heels and drop earrings will make your outfit look elevated and beautiful.
LBD Forever
A great little black dress is an option for every age, size, height or style preference. Style your little black dress how YOU like and experiment with new styles and trends with confidence knowing you look fabulous in your favorite little black dress. Whether you dress it up, down or in between, your little black dress is forever in style. Wear it around town, on vacation or wherever life takes you.